WIMAXIT M1560CT Portable Touch Monitor ,15.6 Inch Slim IPS 1920x1080 16:9 Display,Only One Type-C Cable Delivers Video Power and Touch
stars, based on
( 2 )
reviews
| | |
| --- | --- |
| Quantity | Price |
| 1+ | $239.99 |
| 5+ | $227.99 |
| 10+ | $215.99 |
| 30+ | $203.99 |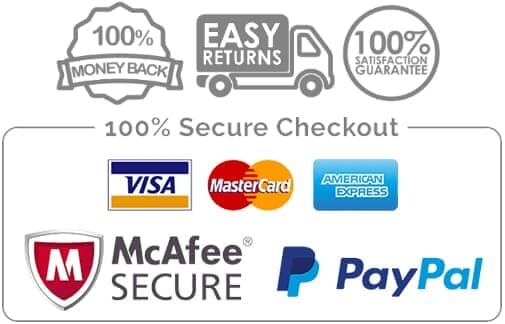 Wish to have an extend monitor to improve work efficiency when using laptop?
This portbale and practical monitor may be the perfect solution for road warriors that looking for an affordable way to expand their Windows desktop to two displays on the go. Its stunning color performance and 1080 resolution can provide user a better viewing experience when playing video games or viewing photographs. In addition to that, its ultra-slim design enables user to take it outside.
As far as we tested, the single type-c monitor is compatible with laptops: MacBook 12inch, MacBook Pro; Huawei Mate Book X, Mate Book E; Xiao Mi Air 12.5/13.3, Air Pro 15.6; ASUS ZenBook 3,U4100, ROG Series; Lenovo Yoga 900 13Inch, ThiPad_X1 Carbon 2017; HP Spectre 13/Envy 13; Dell XPS13, XPS15; Zazer Blade Stealth.Compatible smart phones: Huawei Mate10, Mate10 Pro,P20,P20 Pro. SamSung S8/S8+,S9/S9+,Note8; HTC10; Lumia 950.
My laptop model number not in the listed?

Don't worry, you can also connect the equipped Type-c to USB cord as power source, Connect HDMI as signals. This monitor is both a Type-C only monitor as well as a hdmi monitor. But there is no touch function at this situation
Specifications:
UPC:756244145020
Resolution:1920*1080
Panel Size: 15.6 inches
Panel Type: IPS liquid crystal (glare panel / LED backlight)
Aspect Ratio: 16: 9 (width: height)
Contrast: 800: 1 (Min) (transmission)
Panel brightness: 250 cd/m2
Resoponse Time: 15 ms
Viewing Angle: 85/85/85/85(Typ.)(CR>=10)
Input Terminal: HDMI x 1, Type-C x 2
Appearance size: 350mm x 224mm x 9mm(monitor main body)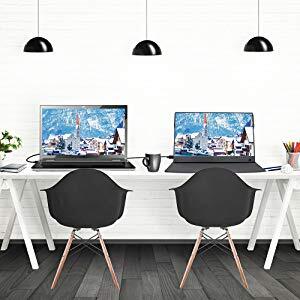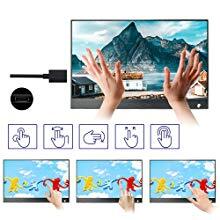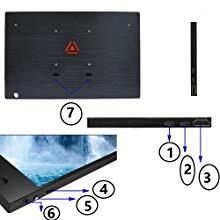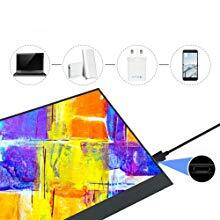 Pakage Included:
1 x 15.6inch Touch Monitor
1 x Wraparound Easel Cover(Available as stand
1 x HDMI Cable
1 x Type-C USB Cable
1 x Type-C to USB 3.0 Cable
1 x Protective Film(Free gifted)

Note: Multi-Touch function only support Windows 7/8/10 and Android mobile phone that have Type-C can have video output, like as Huawei P20,Mate10, Samsung S8 S8+ etc.

ByLandonTuesday, 26 November 2019
I was very impressed with this product. I had just recently bought a similar product from Asus that was non-touchscreen and more money. Like some other popular named brand monitors, the particular type c only connection option was too high tech even for my most recent expensive high tech gaming rig purchased just a few months ago. I had to take it back because it didn't work. Other big name brand monitors seemed to fall into the same category. Then I found this product. It was extremely compatible with both my desktop and laptop out of the box. The unit is lightweight, but surprisingly sturdy. The diplay may not neccessarily beat out all the other name brand competitors, but it is high definition and looks great with nothing really to complain about so far. The killer feature for me is the touchscreen! I don't think you can find anything else out there for the price, portability, compatability, and features like a touch screen. I use this for work and dont game on it. Based on my use I think it is geared more towards productivity so I dont know if this is neccessarily the best option for games. If you need something portable for productivity and touch compatabilty I would recommend this.
ByAnt JonesFriday, 22 November 2019
Build quality seems very good, nice brushed aluminium style chassis and overall form factor is very slender (so it fits in a backpack quite nicely. It takes input from a variety of sources really well and the full sized tpye-c is super useful Screen brightness could probably be a bit better but otherwise the crispness and latency look nice - you could watch a movie or do work on this thing with no difficulties and having a matte screen means that reflections are almost non existant.Would have been nice for Samsung Dex or a Nintendo to be able to power the thing independently rather than needing a seperate battery pack - when it's hooked up it works great mind and there aren't many screens on the market with a built in battery so i suspect that's a general technology limitation.In short, if you're looking for a good secondary screen for working OR something to hook up to a switch or equiv and as long as you don't mind needing another power source then this works fine.Also, whilst i'm thinking, touch functionality also works really well on both Dex and Windows 10.

Your cart is currently empty.