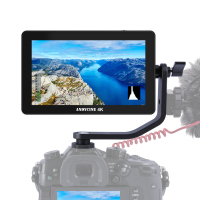 ANDYCINE A6 Plus 5.5inch Touch IPS 1920X1080 4K HDMI Camera Monitor 3D Lut Camera Video Field Monitor
$199.99
As a professional that shoots films, I've become more and more obsessed with that perfect focus and exposure as well as good composition and framing. I think the A6 Plus has helped me achieve that overall. It has some nice features of focus peaking, as well as false color. It also has good 1920x1080 resolution, supports 4K input that gives you good overall brightness at 500cd/m at 440ppi. I also thought perhaps the touch screen would be a nice improvement. I honestly find the touch screen to be not as helpful as I thought, but it does pretty much function as intended. It supports L series as well as Canon batteries, but I've only used the L Series and found it to be acceptable. The battery that is included lasts for about 2 hours or so of continuous use and the included charger is adequate despite having a very short cable. the included sunshade is fine and works as expected and you will need it if out in bright sunlight
This monitor is excellent, having used it for the last couple of days I must say I am impressed. First off you get the monitor, sunshade, power adapter, mount and various booklets .Looking at the monitor it doesn't feel too heavy and it is mainly made of good quality plastic which means it doesn't feel too heavy and the quality is very solid. It has improved from previous models as the battery mount is now stronger and feels more secure and it can now accept Sony and canon batteries.
What I like:1. The usability is just soo much better than the previous model! 
-touble tap for menu 
-swipe up for assist features. [double tap the feature to costumize it]
-swipe up on the left side of screen (screen brightness).
-right side swipe up (volume)
- pinch to zoom2. Lots of assist features built into the monitor that help with the exposure and focusing.
histogram
Focus assist
audio metering
zebra
monochrome
false color [I wish there was the IRE numbers as well]
safety marker
centre marker
scan mode
video aspect
anamorphic modes
flip modes
zoom
freeze
pixel to pixel
Lots3. Audio monitoring has no lag! On the previous model I couldn't use the monitor jack input since it had a lag with the live. Not anymore4. 3D LUT support,[.cube] oh, this is so helpful!!! The monitor already has some LUT's built in for slogs and vlogs and clogs, but you can add your own via the sd card slot. Soo helpful and easy to use.5. The battery mount has 2 battery options, one way Sony F style and other way Canon LP-E6 battery. So which ever ones you have you don't need to get extra converters to fit your batteries.
Having not really appreciated the value, I decided I needed to buy a monitor after filming a few YouTube videos blindly, and having done a few corporate jobs where the client wants to review the footage on set.Andycine was always going to be the monitor I bought as I was only after something easy to use and small, and this had some great reviews. The a6 is an awesome monitor - the screen is incredibly sharp, the menu is so so easy to use even for somebody like me who has never used a camera monitor before, and it's small enough to carry around.This price range for monitors is becoming more and more competitive and there might even be 1 or 2 monitors that have more features for this price but you cannot fault the quality of this monitor in both the build and the software, which is why this is the monitor I recommend to most people at this point!At this point I'd normally say something I don't like about it but honestly I haven't found anything that really bothers me yet, but I'll be sure to update this review if I do!
As a professional that shoots films, I've become more and more obsessed with that perfect focus and exposure as well as good composition and framing. I think the A6 Plus has helped me achieve that overall. It has some nice features of focus peaking, as well as false color. It also has good 1920x1080 resolution, supports 4K input that gives you good overall brightness at 500cd/m at 440ppi. I also thought perhaps the touch screen would be a nice improvement. I honestly find the touch screen to be not as helpful as I thought, but it does pretty much function as intended. It supports L series as well as Canon batteries, but I've only used the L Series and found it to be acceptable. the included sunshade is fine and works as expected and you will need it
This monitor works like a charm and does everything I hoped it would do.Had to figure out how to place the battery so that it wouldn't pop out. I think it was more user error than anything else.
Great price for this very bright and also very large monitor. I had the Lilliput and the Blackmagic and I must say that this is the happy medium with a few more points than the BM. The materials are not the most solid, it is light and it seems that at the first fall it could shatter, but this could be an advantage for those who put it on a gimbal. I was pleasantly surprised both by the HDMI output, which many high-level monitors do not have, the possibility of taking it in SDI version and the thousand options, including the "flip". 5 stars for everything, really a great product, we'll see how long it will last
The Andycine A6 Plus has so many features ,packing list an HDMI cable, a sunshade, and a microfiber cloth to clean the monitor. The monitor itself is made mostly of plastic and is relatively lightweight. Regarding ports, the monitor has an HDMI in and an HDMI out, it has a headphone jack to monitor audio. There is a port where you can plug a dc connector to power the monitor for longer periods by powering it through a wall adapter. Something that is very unique about this monitor is that it has an sd card slot on the bottom which you can use to load luts on to the monitor, so you can see what your final image will look like if you are shooting in a flat picture profile. I personally was really impressed by the touchscreen feature of this monitor, it is very easy to use and makes navigating through the menus of the monitor a breeze. Overall I think the Andycine A6 Plus is a great monitor for people who are looking for a monitor that can display beautiful image quality with the added functionality of touchscreen navigation.
I have two of the A6 monitors and was very happy with them so I was excited to try the A6 plus. I love the fact that it has 3 power options. You can use the Sony and Canon battery's as well as a 12 volt plug. The screen is sharp and bright and the touch screen which can be turned on or off is very responsive and on point. The HDMI in and out is big to because I can connect another monitor to get multiple viewing options. It has a card slot for LUT and 3 quarter 20 threads for multiple mounting options. It has a bunch of other features like histogram and being able to pinch the screen to zoom. The monitor powers on fast but one drawback is even when it is off the battery is still active so it will drain the battery unless you take it out when not being used. It comes with the L mount bracket and its nice but I recommend getting the vlogger mount by Andycine, it works much better. I overall am very pleased with this monitor as I am with every other Andycine product that I own.

Your cart is currently empty.