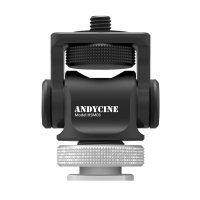 ANDYCINE Mini Hot Shoe Stand Monitor Mount 176 Degree Rotation 360 Degree Base with Screw Fixture Camera EDC Tools Box
$29.99
I've been using this for a week and it's been such a great experience. Very good quality Item, solid construction, all aluminium so I've been using it on my gopro metal rig and it's taken some banging already, but the screws are holding it in place. This is an item most people don't know about so like me they end up purchasing arms and various mounts and adapters to accomplish what this does lightning fast.
LOVE IT, tiny, lightweight, well built and robust. I come from a manfrotto 492 micro ball head to attach my monitor to my camera cage and the "Vlogger" feels better and more balanced.
Product is even better than what you expect!

Your cart is currently empty.