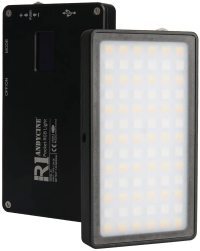 ANDYCINE R1 Pocket Mini RGB On Camera Video Light 360Colors,Dimmable 2500-7000k Range 3600mAh Built in Battery Led Video Light
$79.99
It comes with a soft pouch to store it in and I was really pleased that is uses USB C to charge as it's a real pain having to carry around extra cables otherwise! It's great more of these devices are moving to the USB C standard now. It also came with a cold shoe mount, I don't really tend to use these on camera that often but it seems like good quality. I have a couple of ANDYCINE products now and they seem to make really quality stuff. I'm pleased with the light and will probably look for these again if I never need more.
It is surprisingly bright and I often use it around 50% power which means the battery lasts much longer as well. It has a great spectrum of 360 RGB colour hue's and a fairly wide range in colour temperature so there is plenty to play with. There are several special effect functions which are a bit of novelty but do come in handy, the phasing and pulsing colours tend to be the ones I find most useful.

Your cart is currently empty.