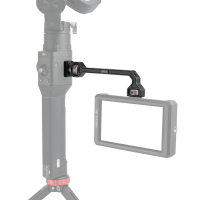 ANDYCINE Monitor Mount, Extension Plate Bracket Magic Arm, for DJI Ronin-S, Microphone, LED Lights External Monitor
$29.99
I use this for my zhiyun weebil s gimbal. Works great. Stays in place. Does move around like other. Allows me to adjust the angle. Perfect for run and gun filmmakers like myself.
This was a good stand for my screen. It's self explanatory and what it was designed to do.
Perfect for attaching a monitor for the camera. I use a clamp on my monopod to connect the arm to. It has additional holes along the arm to mount additional stuff if need be. The arm is rigid, sturdy and easy to quickly connect.

Your cart is currently empty.