WIMAXIT M1331C 1920x1080P IPS HDR Portable USB-C HDMI Monitor, Ultra Thin Build in Speaker Dual HDMI Input Gaming Monitor for Laptop,Cellphones
stars, based on
( 3 )
reviews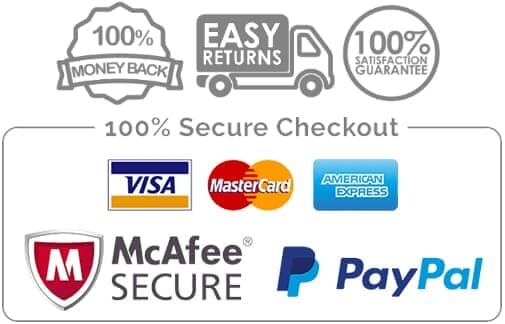 One USB-C Cable Power&Display
The mobile devices which support thunderbolt 3.0 (usb-c 3.1 gen2 protocol) can connect the monitor by usb-c to usb-c cords drive the power from android phones or Laptops and show the display on the monitor.
Please check the detailed description to check your mobile device model number. If you are not unsure about it, please write us messages.
Aluminum body 13.3 IPS Display Support HDR The monitor in thin aluminum body light,light weight,leather case protected the film also work as a stand. 13.inch 1920X1080 native resolutions.IPS Screen,HDR Technology.
Boost Effeiceny&Productivity
The monitor will work as the external monitor for laptops.(Extend or copy the displays). There is also two hdmi input, the monitor could be your second screen on TV,PC,Laptops
The monitor equipped with multi-interface Two hdmi inputs, one earphone ports, built-in speakers. One micro USB OTG port which can connect the mouse ,game consoles,keyboards. Compatible for PS4/PS3/Switch/Xbox one/Xbox360
Sound Service 30 days money back guarantee. 1year quality assurance—Free replacement/Returns. If you have any other questions send us message
Product description
One Cord USB-C Cord Connections:
PC:Support thunderbolt 3.0
Apple Macbook 12" 2016/Macbook 13" 2017/New Macbook Air 2018/Macbook Pro 2019.
Huawei MateBook X/MateBookE
XiaomiAir12.5"/13.3"/Pro15.6
.Lenovo Yoga 900/ThinkPad.
HP Envy 13 2017 /Spectre 13.
Android Phones:Support USB 3.1 Gen2
Huawei Mate P30/P30 Pro/Mate P20/P20 Pro/Mate 10/10 Pro.
Samsung S9/S9+/S8/S8+/S10/Note 8/Note9(Samsung dex)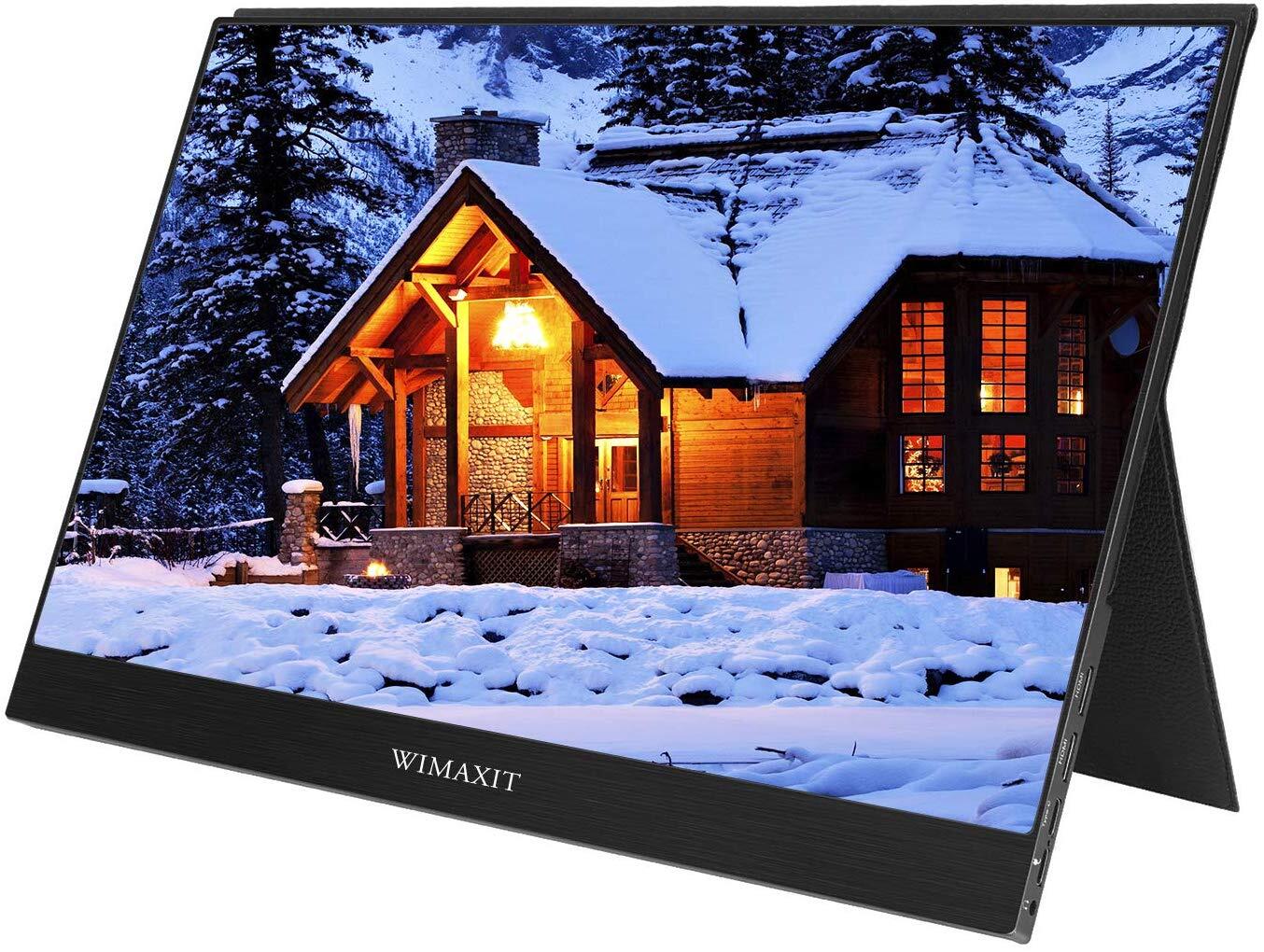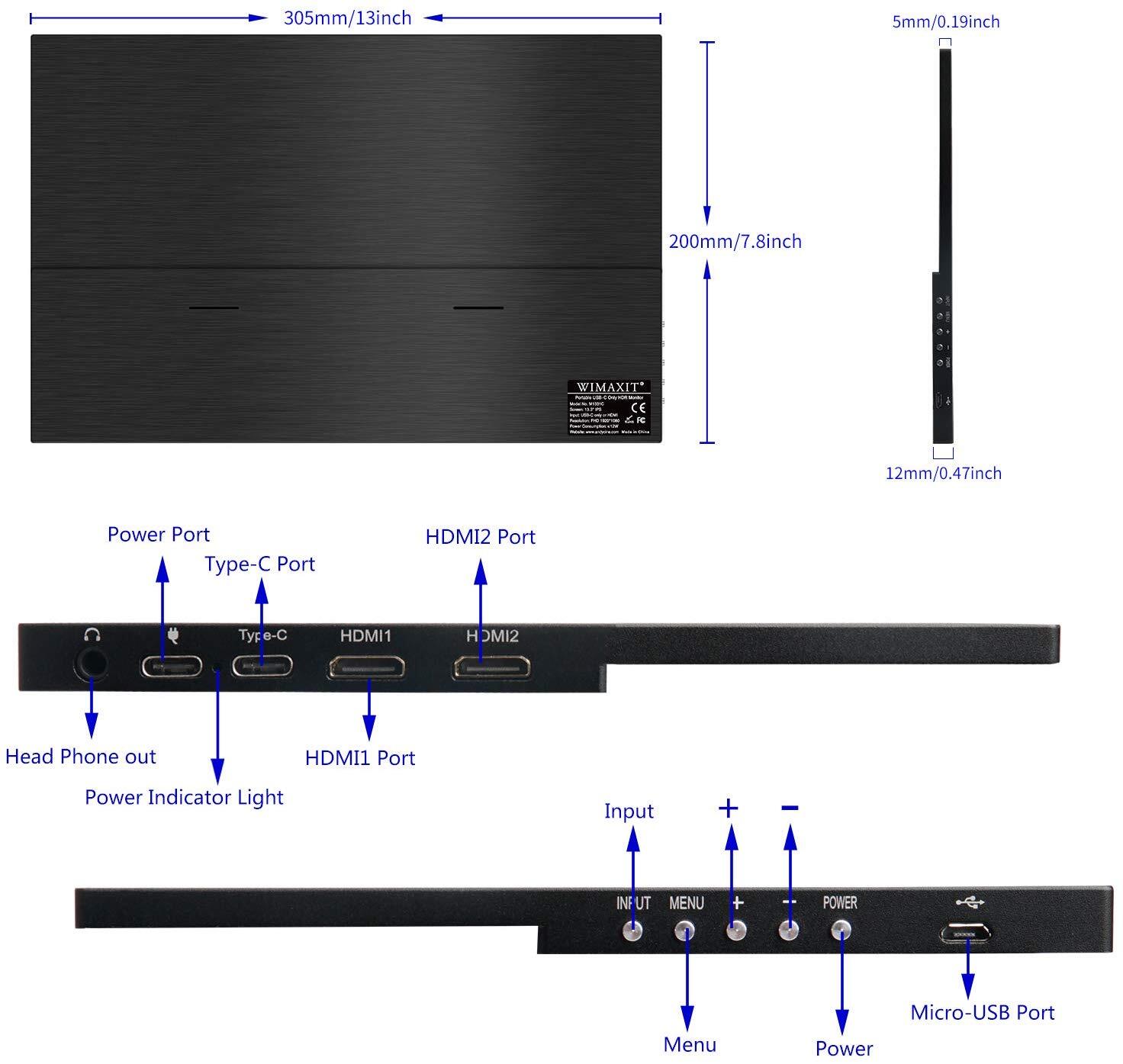 Interface:
2XUSB-C Ports(one for power, one for power&display)
Specification
Resolution :FullHD 1920x1080 pixels
Viewing Angle:89°/89°(L/R) 89°/89°(U/D)
Input Signa:lHDMI/USB Type-C
Audio:3.5mm Stereo Headphone/speaker*2
HDMI formatup to 1080p/60Hz
Power Connector:USB Type-C
Operating Temperature:-20℃ ~ 55℃
Storage Temperature:-30℃ ~ 65℃
Unit Weight:843g(with leather cover)
Package
Package Dimensions:

13.8 x 9.4 x 2.2 inches
Item Weight:

1.92 pounds
Manufacturer:

WIAMXIT
ASIN:

B07VXNN2D3
Model Number :

M1331C
ByWilsonTuesday, 26 November 2019
ByMollyFriday, 22 November 2019
I bought this as screen for my daughter raspberry project , we still working on it.We found this portable screen can use various different ways because monitor built in DUAL Mini HDMI ports and usb -c ports , I can connect on all sores devices . we end up used it everyday on everything . phone cameras .game etc.very easy to use . just plug in no need install extra software or driver.we connect a wireless keyboard and mouse , it even better. so convenience.Highly recommend it.
ByMCFriday, 20 September 2019
I was really surprised with the quality of this monitor. I've used more expensive ones in the past but the build quality of this is excellent. It comes complete with a couple of USB C cables and a HDMI cable. This monitor is great for travelling as it's so slim it slides in next to my laptop in my bag and you hardly notice it's there!The monitor runs via USB type C which is included in the box, in fact including the power port there are 3 USB type C connections on the monitor and two mini HDMI! There is also a headphone jack which is nice to see. The monitor is made from aluminium and looks great. It has an HDR 1080p screen which is IPS so it's really bright so is still very clear and easy to see outside, even in strong sunshine.Despite its size the built in speakers are actually much better than I was expecting them to be, I would usually use a device like this with headphone but the option to have speakers is very handy.The monitor comes with a built-in slim case/cover which is folio style so it can support the monitor for viewing from all angles. It folds out to support the back and you can stand it up on flat surface. The quality of the cover is nice and offers great protection for the screen. I've been using it with various devices such as my phone and game consoles. I'm pleased with the purchase and look forward to travelling with it.

Your cart is currently empty.